Shop COOP Clothing Online
QUICK VIEW
COOP
21 Jumpsuit Street
$249.00
Make a statement in this gorgeous 21 Jumpsuit Street jumpsuit by COOP. Featuring cropped wide leg, hidden back zip and tie belt.Shop more and buy women's jumpsuits online at Picpoket.
QUICK VIEW
COOP
Bite Me Shorts
$149.00
These super cute Bite Me Shorts by COOP can be dressed up or kept casual with their relaxed fit style featuring side ruffles and hidden back zip. Also looks amazing...
QUICK VIEW
COOP
Braces Yourself Skirt
$159.00
Go anywhere in this A-line mini skirt/pinafore style dress. Featuring oversized braces style straps, front pockets and hidden side zip.
QUICK VIEW
COOP
Bury The Jacket
$199.00 $249.00
This edgy denim jacket will become this seasons favourite. Featuring cropped and oversized style, oversized eyelets laced with black ribbon, front pockets and frayed edge on collar, pockets, sleeves and...
QUICK VIEW
COOP
Jeans Come True
$189.00
Funky retro finish cropped jeans by COOP feature relaxed fit, button zip fly, classic 5 pocket styling, twisted front seam and ruffled hem at ankle. Team up with the Mai...
QUICK VIEW
COOP
Let It Zip Dress
$169.00
Turn heads in this cute shift style dress. Featuring round neck, exposed front zip and front pockets. Looks amazing with Top Collar.   NB: Collar sold separately.
QUICK VIEW
COOP
Mai Tie Top
$139.00
This halter Mai Tie Top by COOP will become your spring favourite with its flowy feminine style, deep V neckline, front and back ruching and drawstring back closure. Also looks amazing...
QUICK VIEW
COOP
Ragged Glory Jeans
$169.00
Ragged Glory Jeans by COOP are a boyfriend jean with a twist. Features relaxed fit, high waist, side and back pockets, front pleating and jagged and frayed hem with faded...
QUICK VIEW
COOP
Satin Stitch Shirt
$179.00
This funky Satin Stitch Shirt can take you from day to night with it's relaxed fit and look at me styling. Features button front detailing, front pockets, exaggerated cuffs and...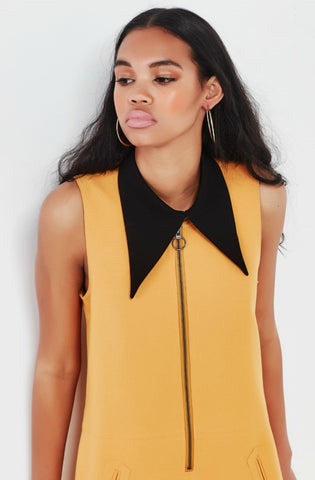 QUICK VIEW
COOP
Top Collar
$75.00
The Top Collar is this seasons must have funky addition to dresses or tops. This oversize collar looks amazing with Let It Zip Dress.
QUICK VIEW
COOP
True Stud Coat
$249.00
This versatile True Stud Coat can be worn as a dress, shirt or light jacket. Features suede like feel, stud buttons through front and subtle drop hem.
QUICK VIEW
COOP
Wear and Tier Dress
$199.00
This funky relaxed fit mini by COOP is sure to make a statement with its original pattern and ruffle detail.
COOP
If you love all the style goodness coming out from world renowned designer, Trelise Cooper, then you're going to fall in love with what is being offered through her spinoff brand, COOP. Specializing in clothing that targets a younger audience, at COOP you'll find plenty of playful trend pieces that provide women with confidence and style. You'll likely notice an intentional injection of bold colour and unique print that work to appeal to that younger target; however, all the pieces still have that bit of luxury and attention to detail that is so characteristic of the Trelise Cooper brand.
Upon browsing through all the eye-popping styles offered by COOP, it becomes clear that there truly is something here for everyone, once again proving the power of this mighty brand. You might find a bold, mini dress that screams feminine and fun one moment, or you might stumble across something that is more suited for the everyday, like a pair of boyfriend jeans with a frayed edge. No matter what you're looking for at COOP,  there's one thing that always remains true: attention to detail and playful design elements are always centre stage at COOP. No matter what. If you want a slice of this winning style in your wardrobe, make sure you get your hands on some COOP. Trust us, you won't regret it.
Showing items 1-12 of 12.